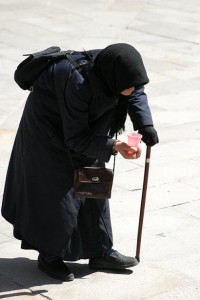 On two separate occasions during Jesus' ministry, it is recorded that he quotes from Hosea 6:6,
"For I desire mercy, not sacrifice, and acknowledgment of God rather than burnt offerings."
In Matthew 9, the Pharisees, disapproving of Jesus dining with societal outcasts, begin to ask his disciples, "Why does your teacher eat with tax collectors and sinners?" He, overhearing their questioning, replies, "
It is not the healthy who need a doctor, but the sick.
But go and learn what this means: 'I desire mercy, not sacrifice.' For I have not come to call the righteous, but sinners." Again, we see a similar response in Matthew 12, when the Pharisees confront Jesus for picking grain on the Sabbath. He says, "
If you had known what these words mean, 'I desire mercy, not sacrifice,' you would not have condemned the innocent.
For the Son of Man is Lord of the Sabbath."
Evaluating the cultural back drop of Jesus' time gives us some insight into the context of these two accounts. The Pharisees belonged to the wealthy, upper class, while the people Jesus is associating with here are of the lowest class. According to Jirair S. Tashjian in his article,
Tax Collectors and Sinners
, "The majority of the people in Palestine belonged to the lower class, known as the poor. All sorts of people belonged to this class, such as orphans and widows, the blind, the crippled, and the mentally ill. Having no other means of livelihood, people with physical and mental handicaps became beggars. To this class also belonged outcasts. One can be an outcast without necessarily being poor economically. Such were tax collectors and sinners." Shockingly to the Pharisees and probably to the modern day Church, Jesus is hanging out with those who have no righteousness of their own, no credibility in society, and are consistently found to be breaking the law of God. And he is not asking them to shape up.
So what exactly is this mercy that Jesus refers to? Looking through the Old Testament, mercy is often paired with compassion or love:
Have mercy on me, O God, according to your unfailing love; according to your great compassion blot out my transgressions. Psalm 51:1b




Remember, LORD, your great mercy and love, for they are from of old. Psalm 25:6




"This is what the LORD Almighty said: 'Administer true justice; show mercy and compassion to one another." Zechariah 7:9
We also sense that it is something bestowed from a person who has authority and power to a person who has none, whether in finances or in forgiveness:
The poor plead for

mercy

, but the rich answer harshly. Proverbs 18:23




Who is a God like you, who pardons sin and forgives the transgression of the remnant of his inheritance? You do not stay angry forever but delight to show mercy. Micah 7:18
And to the New Testament Church, we read in Ephesians 2:4-5, "But because of his great love for us, God, who is rich in mercy, made us alive with Christ even when we were dead in transgressions—it is by grace you have been saved."
If we look again at Matthew 9, we may just see that the sinners Jesus is dining with are not too different from us sinners saved by grace. We have no righteousness of our own, no credibility in society, and we consistently break the law of God. Jesus is not asking us to shape up. That is not his message. He bestowed mercy upon us, to not clean us up and make us appropriate, but to bring us to life when we were once dead, to give us a new life altogether. Christ's life. And because we have received this rich mercy, we can give it away to those in need of a doctor, in need of a Savior. We give through our great wealth as American Christians and we give through our great wealth as recipients of God's rich mercy. So let us not give out of judgement or obligation, but let us be merciful in our daily lives, preaching the Good News that Jesus saves the outcasts and giving our possessions, reputations, and very lives to show them his love.